Sunflower oil refinery plant
Because of high wax content, sunflower oil refinery plant has one more process than other vegetable oil refinery plant. So except for degumming, deacidification, decolorization, deodorization, sunflower oil dewaxing process should be added after deodorization process in sunflower oil refining process.
Sunflower oil is one of the world's traditional oils. Rich in linoleic acid (54% to 70% of total fatty acid content) and oleic acid (about 39%), the nutritional value is higher, but the crude sunflower oil contains trace amounts of wax (about 0.10%) and oxoacid, affecting quality and storage stability. By dewaxing, sunflower oil will still remain transparent and clear even in winter.
About sunflower oil dewaxing process, there is detailed introduction, please read-- Dewaxing process.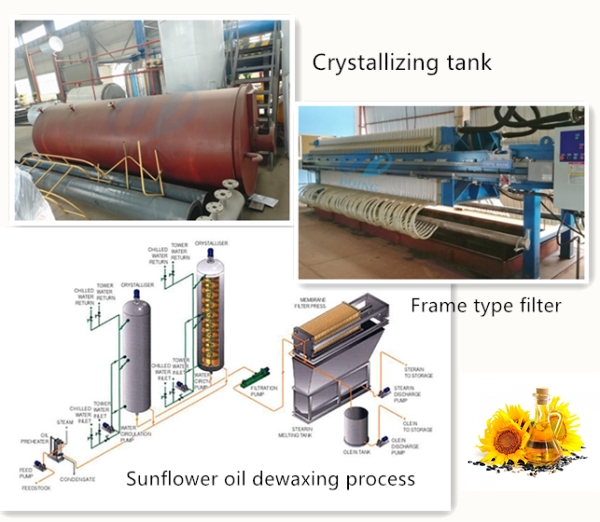 Sunflower oil dewaxing machine and dewaxing process
Types of Henan Doing Company sunflower oil refinery plant:
| | |
| --- | --- |
| Capacity | Type |
| 1-20TPD | Batch type sunflower oil refinery plant |
| 10-50TPD | Semi-continuous sunflower oil refinery plant |
| 30-1000TPD | Full-continuous sunflower oil refinery plant |
The flow chart of sunflower oil refinery plant: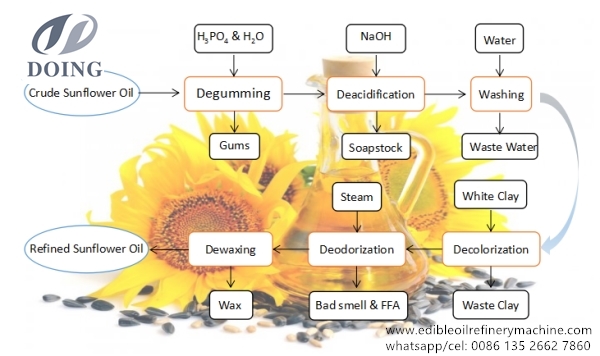 r oil refining process flow chart
Main process of the sunflower oil refinery plant:
| | |
| --- | --- |
| Main process | Functions of each step |
| 1.Crude sunflower oil degumming | In this step gums in crude sunflower oil are removed by hydration with the help of phosphoric acid. |
| 2.Deacidification (neutralization) | In this step free fatty acids are neutralized by using sodium hydroxide and convert them into soap.Additional impurities are also removed by adsorption on soap. |
| 3.Decolorization | During de-colorization, unwanted pigments are adsorbed physically and oil will become much clearer. |
| 4.Deodorization | Deodorization is used to remove unacceptable odors by steam distillation, the odoriferous compound are stripped off with the help of live injected steam into heated oil under high vacuum pressure. |
| 5.Dewaxing (necessary for sunflower oil) | Sunflower oil dewaxing machine reduce wax content in sunflower oil, which help increase edibility of sunflower oil. |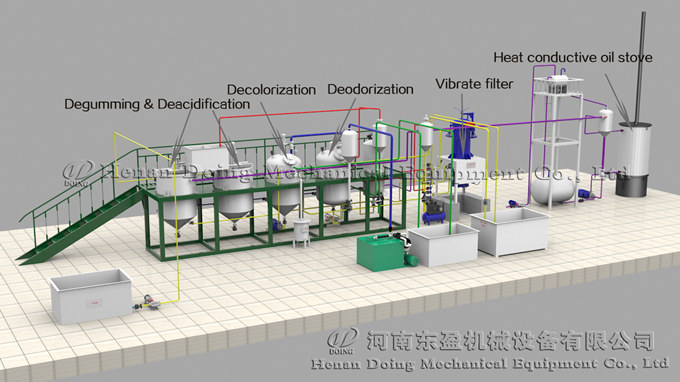 Small sunflower oil refinery plant 3D diagram
Sunflower oil refinery plant produced by Henan Doing Company has exported to many countries. We can design 1-1000TPD sunflower oil refinery plant for you and offer turnkey project oversea services. From sunflower oil refining machine manufacturing, delivery, installation, commission, training workers to debugging, our best wish is getting your satisfiction.
Leave a message
If you wanna to get more details about Sunflower oil refinery plant, you can send E-mail to market@doingoilmachine.com . Or you can consult our professional engineers and specialized sales team by leaving a message in below form. We will contact you ASAP. You also can visit our factory in Henan, China.