1tph cottonseed oil refining project in Uganda
Recently, we received photos and videos from Ugandan customers about the 1tph cottonseed oil refining project. The customer is happy to share with us that the equipment is working well and he is satisfied with working with us. The video of the 1tph cottonseed oil refining project in Uganda is as follows:
This customer from Uganda asked us about cottonseed oil refining equipment on December 11, 2020. The engineers of Henan Glory Company specially designed the cottonseed oil refining solution for him according to his actual production needs. But at the beginning, the customer did not directly agree with our project plan, and privately found several suppliers to compare accordingly.(Recommend reading: Cottonseed oil refinery plant)
After many comparisons, the Ugandan customer finally chose to cooperate with Henan Glory Company. The customer said frankly: It was Doing Company's high-standard product quality, constantly updated technology and thoughtful service that made him finally decide to cooperate with Doing Company for a long time. As the two sides reached a consensus, the cooperation went very smoothly.
First of all: we communicated again and confirmed the final plan to purchase 1tph cottonseed oil refining machine, and clarified the payment time and payment method.
Secondly: the Ugandan customer paid the equipment advance payment according to the contract, and Doing Company also started production according to the contract.
Third: Doing Company completes the production as agreed and informs the customer of the production situation. After the customer understands the situation through the online video, he pays the balance of the equipment and shipping. After that, Henan Glory Company arranged transportation and sent the bill of lading to the customer.
Fourth: Ugandan customers successfully cleared customs and shipped the equipment to the factory;
Finally: Henan Glory Company arranged engineers to go to Uganda to assist customers in completing installation, commissioning and personnel training.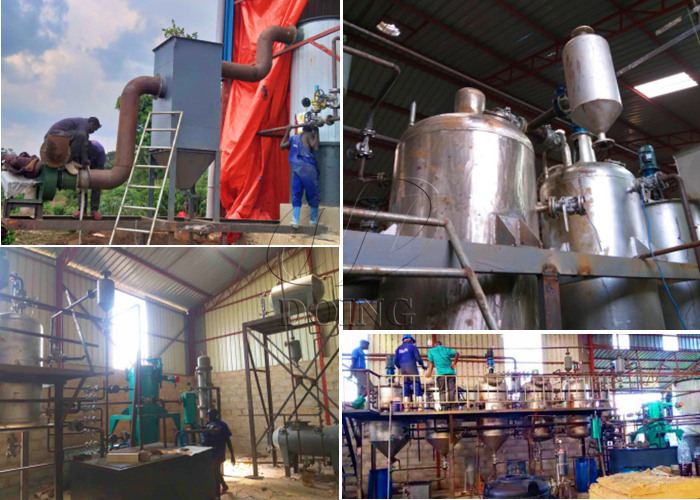 1tph cottonseed oil refining project established in Uganda
The above is one of the cottonseed oil refinery projects completed by our Henan Glory Company. In addition, our Henan Glory Company has successfully established several cooking oil refinery projects in many countries, such as palm oil/palm kernel oil/soybean oil/sunflower oil refinery project. No matter what kind of edible oil refinery you want to build, you can contact our company. We can customize a specific production plan according to your needs.
Leave a message
If you wanna to get more details about 1tph cottonseed oil refining project in Uganda, you can send E-mail to market@doingoilmachine.com . Or you can consult our professional engineers and specialized sales team by leaving a message in below form. We will contact you ASAP. You also can visit our factory in Henan, China.