What is chemical refining of edible oil?
Chemical refining of edible oil is the traditional method used in past centuries. The main purpose of chemical refining is to remove the FFA by an alkaline solution and at the same time remove other impurities.
Other undesirable non-glyceride materials removed in chemical refining process:
Phospholipids (gums)
Oxidized products
Metal ions (e.g. iron, copper)
Colour pigments (e.g. gossypol)
Insoluble impurities (e.g. meal fines)
Then these soaps, which is the products of FFA and alkali reaction, are removed by separators. After neutralizing, the oils will be bleached and deodorized. This chemical refining of edible oil can be used for refining almost all crude vegetable oils except for castor oil.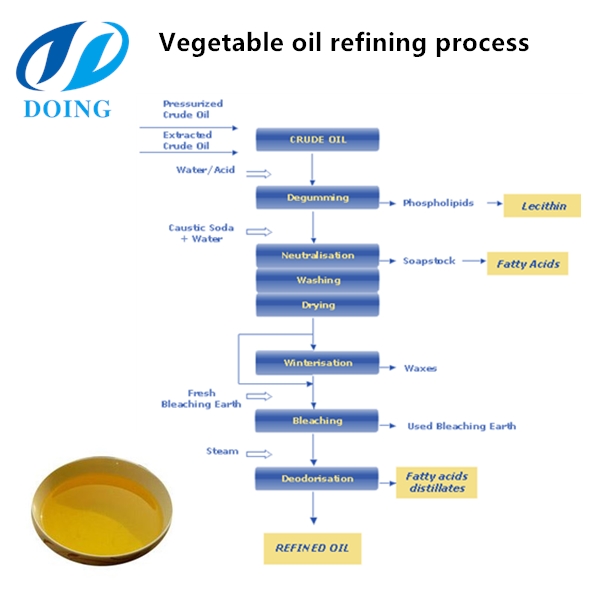 Edible oil chemical refining process
In edible oil chemical refining process, alkali deacidification is the most critical stage, which is the stage leading to the highest loss of neutral oil and the most influential stage on refined oil quality. At first the crude oil undergoes degumming process where it is treated with food grade processing acids or water to remove seed particles, impurities, phosphatides, carbohydrates, proteins and trace of metals. Later to neutralize free fatty acids, it is treated with sodium hydroxide alkaline solution, followed by the washing out of soaps and hydrated phospholipids. Then follows bleaching and deodorization where unwanted pigments, odours and traces of impurities are removed.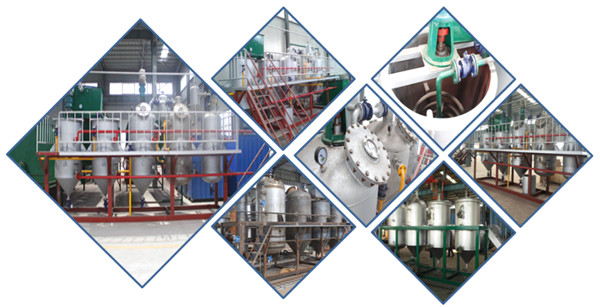 Small scale edible oil refining machine
The factors that influence the deacidification in edible oil chemical refining process:
1.The types and amounts of alkali;
2.The lye concentration;
3.Operating temperature;
4.Operating time;
5.Operating of mixing and stirring;
6.The influence of impurities;
7.Operating of oil soap separation;
8.Operating of washing and drying.
Henan Doing Company is a professional manufacturer of edible oil refinery machine, which is able to use chemical refining methord and physical refining methord. The process steps in edible oil refining can be adapted in accordance with the crude vegetable oil quality to give a good final oil quality with acceptable oil losses. Our engineer can help you to design the edible oil refining machine for you. Please feel free to leave a message! We are waiting for you!
Read more: What is physical refining of edible oil?
Leave a message
If you wanna to get more details about What is chemical refining of edible oil?, you can send E-mail to market@doingoilmachine.com . Or you can consult our professional engineers and specialized sales team by leaving a message in below form. We will contact you ASAP. You also can visit our factory in Henan, China.