How much bleaching earth to charge in edible oil refining process?
Are you running an edible oil refinery? Or planning to set up an edible oil refinery? I guess you must know that bleaching earth is used to absorb pigment and color in the crude oil, but you don't know clearly about how much bleaching earth to charge in edible oil refining process. In fact, the amount of bleaching earth to use is influenced by some factors.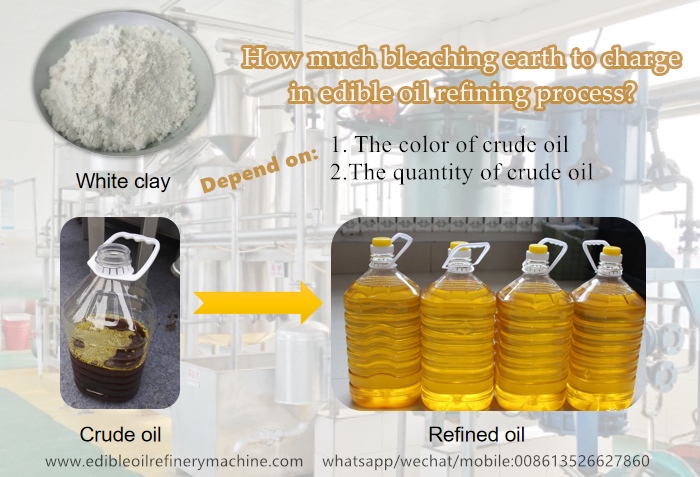 Two factors influence the amount of bleaching earth
1. The color of crude oil
First, different crude oil has different colors. If its color is very dark, then you can add more. If it has a light color, then no need to add too much bleaching earth. Like crude palm oil, which has dark red color, so in palm oil refining process, you need add more bleaching earth to make its color lighter.
2.The quantity of crude oil
Second, the quantity of crude oil in edible oil refinery plant will also decide the additive amount of bleaching earth. Usually the bleaching earth amount is 2%-5% of the crude oil refinery input capacity. For example, if your edible oil refinery is 5 tons per day, you need about 0.1-0.25 tons bleaching earth. And this is to ensure the oil residue in the bleaching earth lower than 20%-25%, thus can reduce the loss of oil and profit.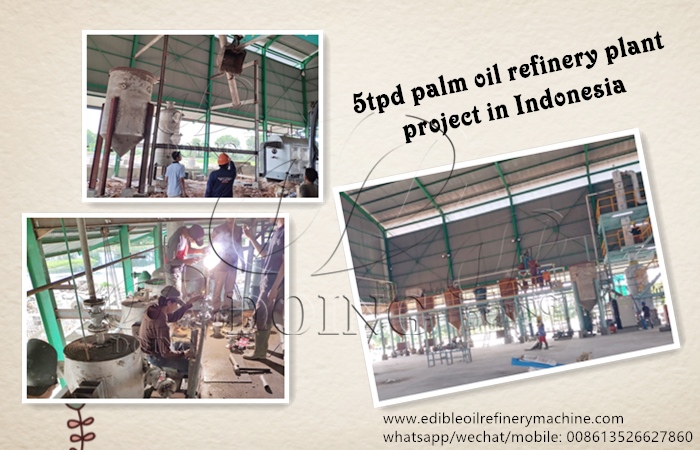 5tpd palm oil refinery project in Indonesia of Henan Doing Company
Last year, we helped our client set up a 5tpd crude palm oil refinery plant in Indonesia. Since the client's crude oil color is dark red, then he wanted to remove the color because of market demand, so we designed the refinery plant for him, finally his oil turned into the light golden color after bleaching.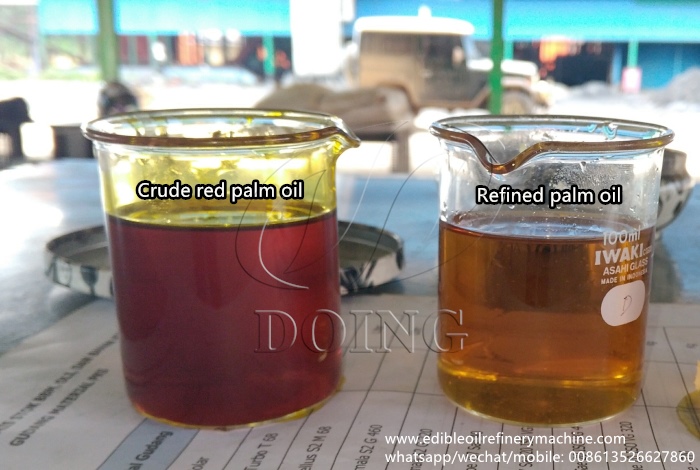 The crude red palm oil and refined palm oil of Indonesian project
If you also have such requirements, contact us please. And DOING engineers will be glad to help you design the suitable edible oil refining process flow chart to make sure get high quality edible oil, and reach best effect of bleaching.
Leave a message
If you wanna to get more details about How much bleaching earth to charge in edible oil refining process?, you can send E-mail to market@doingoilmachine.com . Or you can consult our professional engineers and specialized sales team by leaving a message in below form. We will contact you ASAP. You also can visit our factory in Henan, China.

Leave a message

Tel/Whatsapp:008613526627860