What chemicals are used in refining process of edible oil?
In the refining process of edible oil, three kinds of chemicals will be usually used. They are phosphoric acid, alkali, white clay. Do you know what functions they have?
Phosphoric acid is used to make it easier to remove the gums from edible oil. Generally, hot water or electrolyte solution can make the colloidal impurity in the oil absorb water to become bigger, and form hydrate. However, adding some phosphoric acid solution will have better effect, such as less oil loss, less phosphorus content in the edible oil.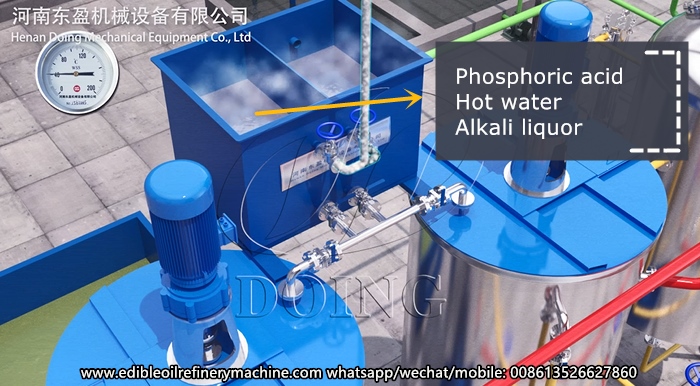 The hot water tank of batch type edible oil refining machine
Alkali is used in chemical refining process of edible oil. It will be reacted with free fatty acid, which is called neutralization process or deacidification process. After reaction, the nigre can be discharged out to make soap.
White clay is used in the bleaching process, also called decolorization process of edible oil. The pigment in edible oil was removed by adsorption of white clay. In this process, it will use leaf filter and vacuum system.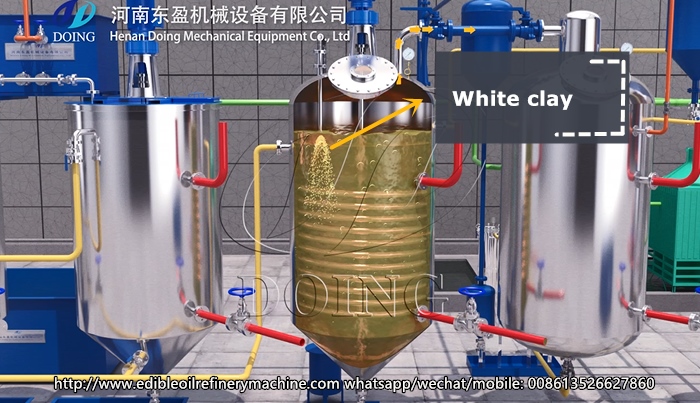 Add white clay in the decolorization process
Except from these chemicals, in the edible oil refining process, it also need conduction oil and steam to provide the quantity of heat.
If you want to buy edible oil refinery machine, please read the machine list carefully. Because a complete set of edible oil refinery plant contains many equipment according to the edible oil refining process designed by the engineers. And you had better confirm the oil refining technology that you want with the engineers.
Leave a message
If you wanna to get more details about What chemicals are used in refining process of edible oil?, you can send E-mail to market@doingoilmachine.com . Or you can consult our professional engineers and specialized sales team by leaving a message in below form. We will contact you ASAP. You also can visit our factory in Henan, China.

Leave a message

Tel/Whatsapp:008613526627860