3D plate and frame filter press machine video
Doing series oil filter press is plate type oil filter machine which is mainly being used for separating solids and liquids in the oil production plants for edible or vegetable oils. This model plate and frame filter press machine is suitable for filter crude oil and refined oil, and it is also could be applied to filter bleaching oil in the oil refining plants.

Structure of plate and frame filter press machine:
The Plate and frame filter press is a basic filtering unit that consist by filter frame and filter plate. The filter is formed by four parts:Mainframe, filtering parts, press and control. The filter part is constituted by several filter boards and frames which are ranked in the main beam in an order—the filter is between filter board and fram.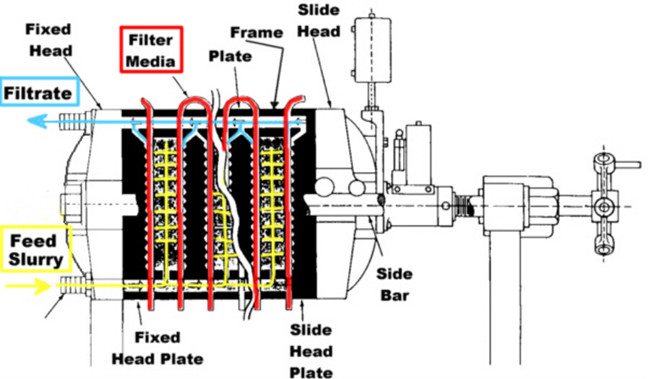 Plate and frame filter press machine
Working principle of plate and frame filter press machine:
When material come into filter room from hole in push plate, the solid bigger than the hole of filter intermediary is hold in the filter room and become solid lump while the liquid flow out from the discharge hole by free flow and undercurrent flow. Under each filter board there is a hole with a water nozzle that the water flow out from the nozzle is called free flow, while the way brings water from each filter boars together and flow out by discharge channel is called undercurrent flow.

Main features of the plate and frame type filter press:
1. Application in Mining, Food, Industrial Chemical, Pharmaceutical, Oil, Solid-liquid Separation Industries.Detail as: Ceramic, Gelatin, Edible Oil, Chemicals, Food Processing, Pharmaceuticals, Leather Tanneries, Sewage Treatment Plants, Effuluent Treatment Plants, Sugar, Fertilizers,Petro Chemcials.
2.Structure is made of high quality carbon steel. It adopts automatic welding, solder side is flat, weld-joint is solid and durable, it can perfectly avoid distortion.
3.Main beam is processed by high speed centrifugal sand blasting to remove rust and iron oxide scale, then painted by epoxy micaceous iron primer to get better rustproof and corrosion resistance effect.
Leave a message
If you wanna to get more details about 3D plate and frame filter press machine video, you can send E-mail to market@doingoilmachine.com . Or you can consult our professional engineers and specialized sales team by leaving a message in below form. We will contact you ASAP. You also can visit our factory in Henan, China.

Leave a message

Tel/Whatsapp:008613526627860