Global edible oil market trends:Rising consumption of edible oil
Common edible oils include soybean, canola, palm, corn, coconut, cottonseed, olive, and sunflower oils, with soybean, canola and palm oils being the most widely consumed ones. They are versatile and may be a component of products including fried foods, mayonnaise, margarine, shortening, pharmaceuticals, and biofuels.

Edible oil
Globally, whatever cooking oil is used for, the total demand of edible oil is increasing every year, which has also stimulated the vigorous development of the edible oil production industry.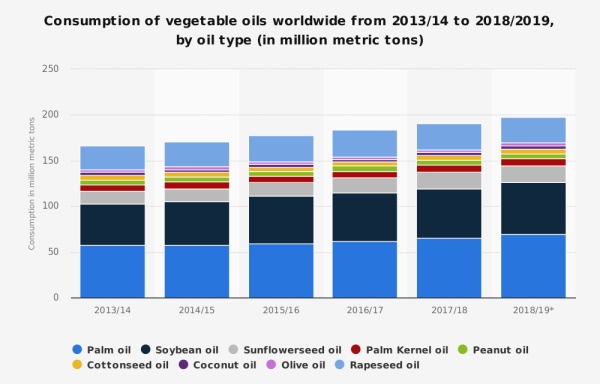 2013-2018 the consumption of edible oil is increasing
According to some statistic, between 2013 and 2018, world consumption of every kind of edible oil increased a lot. And the area of consumption is very concentrated because the top 50 consumption countries represented about 90 percent of the world edible oil market.
And we find that the largest consuming countries of edible oils in the world are China, India, Brazil, Nigeria, Indonesia and Pakistan. They have significantly contributed to total consumption growth by increasing population and/or expanding per capita intake.
At the same time, these countries are also main edible oil production countries. And there is a great demand for edible oil production machines in these countries. Every year, many customer come to Doing Company to see the cooking oil processing machine and edible oil refinery machine.
Due to increasing consumer interest in healthy, organic and unprocessed/unrefined edible oils, the global edible oil market is expected to exceed 275 million tons by 2024. And low-fat, low-cholesterol and low-calorie edible oils are particularly well-suited to benefit consumers' growing health and wellness concerns.
Developing markets offer opportunities for greater market penetration and per capita consumption growth potential, while in developed markets, innovations in new flavors and health components will help increase consumption. With people pursuing of health and nutrition, the popularity of olive oil is increasing.
The Asia-Pacific region is the world's largest and fastest-growing market. With the growth of population and the corresponding increase in food demand, the annual growth rate is about 5.4%.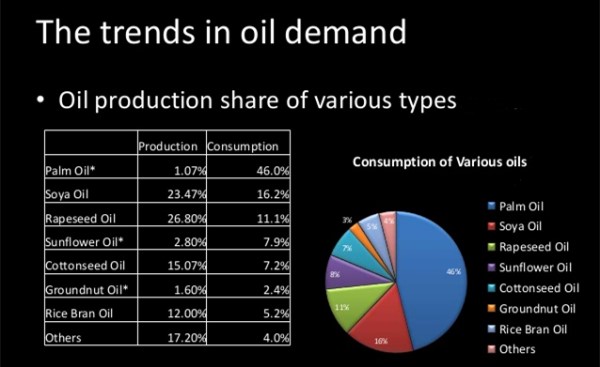 Different kinds of edible oil production and consumption
At present, palm oil is the main part in edible oil consumption. By 2024, palm oil will remain the largest market, followed by soybean oil. Palm oil is expected to be the cheapest vegetable oil, and the food industry's increased demand for margarine, baked fat, fried fat and cooking oil is the fastest growing. So we should expand the use of palm oil while improving the sustainable production of palm oil.
If you want to set up a cooking oil factory, you had better figure out what kind of edible oil you want to get and what kind of edible oil your customer like. Doing Company will give you the best suggestion according to your needs.
Leave a message
If you wanna to get more details about Global edible oil market trends:Rising consumption of edible oil, you can send E-mail to market@doingoilmachine.com . Or you can consult our professional engineers and specialized sales team by leaving a message in below form. We will contact you ASAP. You also can visit our factory in Henan, China.

Leave a message

Tel/Whatsapp:008613526627860