Build your own small scale cooking oil refinery plant to make more money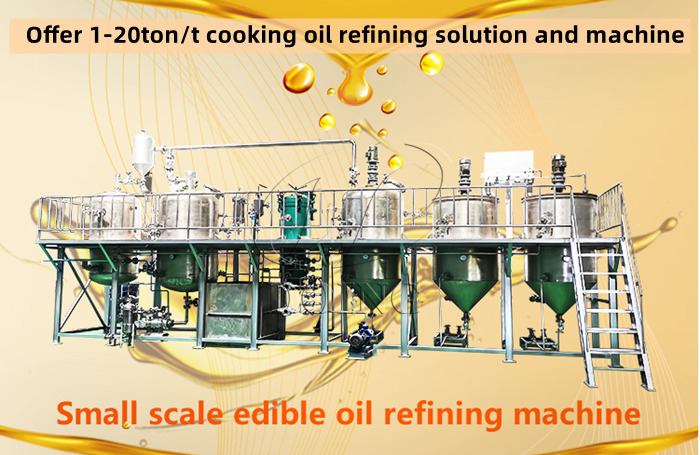 Offer customized cooking oil refining plant
After cooking oil is extracted from plant seeds, crude cooking oil should go through many different processes in cooking oil refinery plant for human consumption. Simply put, refining is the removal of impurities that may be present in crude cooking oil. Such impurities include phospholipids, free fatty acids (FFAs), waxes and gums. In addition, cooking oil refining machine also help remove unpleasant odors and dark colors. If you don't know much about the edible oil refining business, but want to make a lot of money by starting your own small edible oil refinery, read on!
Small scale cooking oil refinery plant
Yield : 1ton/day ~ 20ton/day
Main components: heat transfer oil furnace, steam generator, refining pot, deodorizing pot, decolorizing pot, refining pot leaf filter, hot water tank.
Refining process: degumming, neutralization, decolorization, deodorization
Application: Suitable for refining various cooking oils, such as rice bran oil, palm oil, coconut oil, cottonseed oil, rapeseed oil, sunflower oil, peanut oil, soybean oil, etc.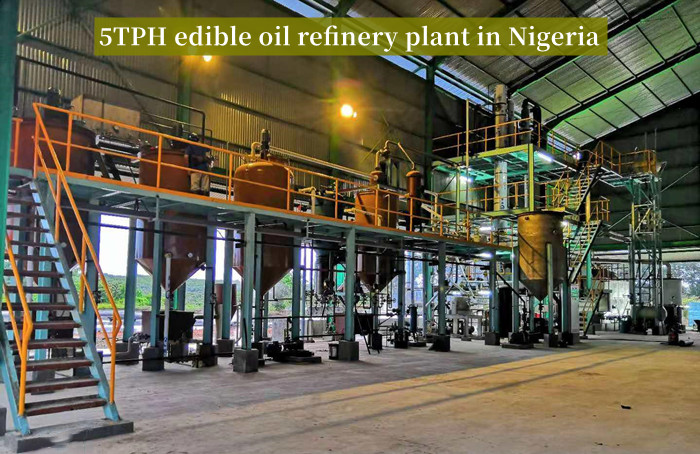 1-5tpd cooking oil refinery plant
Highlights of small scale cooking oil refinery plant
If you are interested in setting up a small scale cooking oil refinery plant to start a local cooking oil business and make big money, then a small and cost-effective cooking oil refinery plant is needed! This small scale cooking oil refining equipment has the following characteristics:
►Reduce land requirements
►Wide range of applications
►low cost
►easy to use
It is widely used not only in the refining of vegetable oils, but also in the refining of animal oils. In addition, due to the compact and reasonable structure design, the equipment price is greatly reduced, and the cost recovery time is greatly shortened. Land is always an issue when running an edible oil refinery or starting an oil refining business. But with this batch refining facility, there is no need to worry about land issues. Only 50m 2 is enough to build a 1-10 ton/day cooking oil refining and processing plant. What's more, it is easy to master the operation skills after our short professional training.
Commercial cooking oil refinery【Project show】
Henan Glory Company is a professional manufacturer of cooking oil extraction equipment and cooking oil refining equipment. Our cooking oil processing equipment is suitable for almost all types of oilseeds. Below are some of our small scale cooking oil refining projects. Contact us today for details and latest cost of small scale cooking oil refining plant.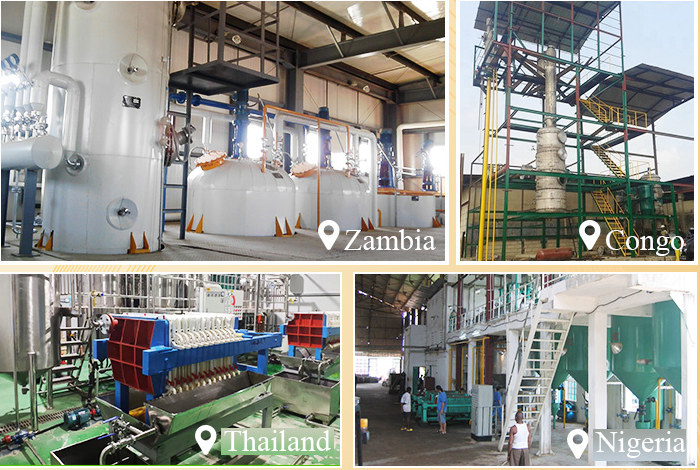 Cooking oil refining project cases
Complete cooking oil refining process
Cooking oil refining machine can be divided into three different types: batch cooking oil refining equipment, semi-continuous cooking oil refining equipment and fully continuous cooking oil refining equipment. Cooking oil refining processes are slightly different, but one aspect that makes them very different is the capacity of processing.
Batch refining process: Free fatty acid content less than 1%.
Semi-continuous refining process: recommended when the edible oil output is 20-50 tons/day.
Fully continuous refining process: The entire refining process is fully continuous, with a processing capacity of 50-600 tons/day.
Small scale cooking oil refinery plant generally use batch cooking oil refining equipment, which has low maintenance cost, simple operation and low capital investment.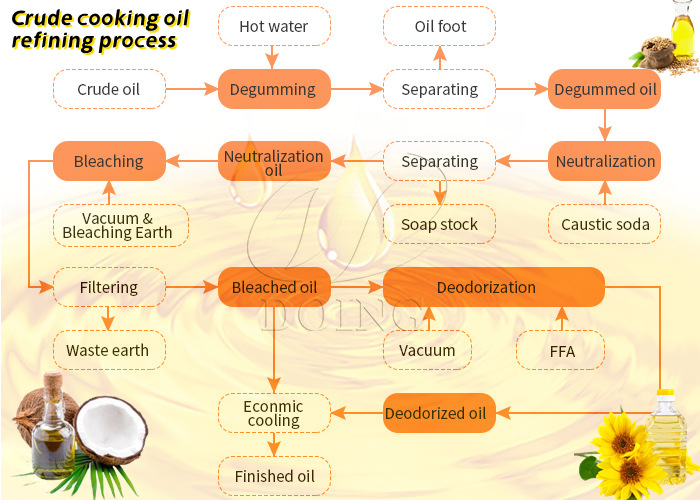 Cooking oil refining process
1. Degumming
This is also a refinery pretreatment. Degumming is the removal of phospholipids and mucilage substances from crude cooking oil. Phospholipids have strong hygroscopicity and are not conducive to the storage of cooking oils, but have high nutritional value and are widely used. Removal of phospholipids is an important part of oil refining. This step adopts hot water or alkaline electrolyte. Phospholipids swell by water absorption, then precipitate and separate from the oil.
2. Neutralization
The second step is neutralization. It removes free fatty acids (FFA) by adding caustic soda. Here, hot fluid oil is needed to heat the crude cooking oil to about 60 degrees, then stir the crude cooking oil, and the chemical reaction generates soap liquid, which is precipitated at the bottom of the tank and taken out.
3. Decolorization
The neutralized oil now goes to the next container where the unpleasant color needs to be removed. In this step, we use fuller's earth which has strong adsorption at high temperature. The heat transfer oil temperature should reach 110 degrees. To ensure good adsorption, and stirring is also necessary. The adsorbed residue and bleaching earth are filtered through a filtration process.
4. Deodorization
The clean bleached oil is then pumped into a deodorizer for a final step of deodorization to remove volatile odorants and free fatty acids. This step is carried out under high vacuum. The oil is heated to 110 degrees, and then fresh steam is delivered through the pipeline, the oil temperature is continuously raised to 200-220 degrees, and the smell is removed, and the deodorized oil flows in the cooler and is cooled by the circulating oil. The refined cooking oil is obtained through secondary filtration.
5. Dewaxing
Oils such as corn oil and sunflower oil contain waxes. When oil with wax is kept at a relatively low temperature, it develops a hazy appearance, which is usually not liked by clients. Wax removal is the last step that cooking oil refiners take before bottling and selling their oils.
Video: Cooking oil refinery plant layout and construction
The above is a brief introduction about the small scale cooking oil refinery plant. If you want to build your own small scale cooking oil refinery plant to make a lot of money, please contact Henan Glory Company, our professional engineers will tailor it to you according to your raw materials and processing capacity customize to help you get more profit.
Leave a message
If you wanna to get more details about Build your own small scale cooking oil refinery plant to make more money, you can send E-mail to market@doingoilmachine.com . Or you can consult our professional engineers and specialized sales team by leaving a message in below form. We will contact you ASAP. You also can visit our factory in Henan, China.