How is edible oil refined? What is edible oil refining process?
Refined edible oil is obtained through further processed by series of machines in edible oil refinery plant, and then after refining, the edible oil you got from edible oil pressing plant or edible oil solvent extraction plant will become standard refined oil. Usually edible oil refining process includes degumming, deacidifaction, decolorization and deodorization four steps. But some kinds of crude vegetable oil need dewaxing step, like crude sunflower oil, crude cottonseed oil, crude corn germ oil, etc. Other kinds of vegetable oil, like palm oil, palm kernel oil, coconut oil, need fractionation step.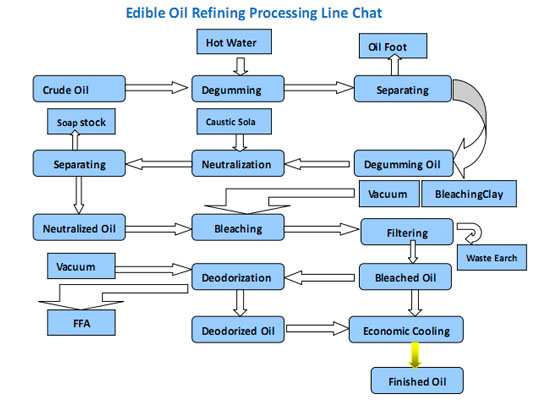 Edible oil refining process flow diagram
This is Henan Doing Company's edible oil refining process flow diagram based on engineers' designing. It contains complete edible oil refining steps, from degumming to dewaxing or fractionation. Actually, different kinds of crude vegetable oil need different oil refining process. Because like soybean oil, it is high gum content oil, which is suitable for hydration degumming method, but like palm oil, it has less gum, which uses degumming by adding phosphoric acid method.
Besides, palm oil often has high acid value, if you want better effect of deacidification, our engineers will advise you to use physical refining method, which means you need a deodorization tower. In deodorization tower, using steam to remove acid and odors can reach better effect.

The deodorization tower used in Indonesian 5tpd palm oil refinery plant project
Therefore, tell us the kind of your crude vegetable oil, and then our engineers can design the most suitable oil refining process for you. We can make sure that the final refined oil can reach your national standard. You can believe in Henan Doing Company! We are very professional.
Leave a message
If you wanna to get more details about How is edible oil refined? What is edible oil refining process?, you can send E-mail to market@doingoilmachine.com . Or you can consult our professional engineers and specialized sales team by leaving a message in below form. We will contact you ASAP. You also can visit our factory in Henan, China.

Leave a message

Tel/Whatsapp:008613526627860