What is refined vegetable oil? How to make refined vegetable oil?
What is refined vegetable oil?
Refined vegetable oil means the vegetable oil after degumming, deacidification, decolorization and deodorization process, which has characteristics that consumers desire such as a bland flavour and odour, clear appearance, light color, stability to oxidation and suitability for frying.

clear appearance and light color refined vegetable oil
According to Food Safety and Standards (Food Products Standards and Food Additives) Regulations, 2011, there are some requirements when refining oil:
1. No other chemical agent can be used(except for prescriptive chemical agent).
2. It is mandatory to clearly specify on the label of the container the name of the vegetable oil from which the refined oil has been manufactured.
3. Besides the standards mentioned in the regulations for refined vegetable oil, manufacturers must also conform to the standards of each of the edible oils in the regulations when used for refining.
The refined vegetable oil is got by further processing different crude vegetable oil, which are extracted from the following oil seeds. Such as sunflower seeds, Sesame, Soybean, Mustard, Canola/Rapeseed, Coconut, Cottonseed, Groundnut, Rice Bran, Safflower seeds, Maize (Corn) germ, Palm, Palm Kernel, etc.
How to make refined vegetable oil?
Whether the vegetable oil is extracted by pressing method or solvent extraction method, are both regarded as crude vegetable oil. Crude vegetable oil contains lots of impurities, pigments, bad odors, etc.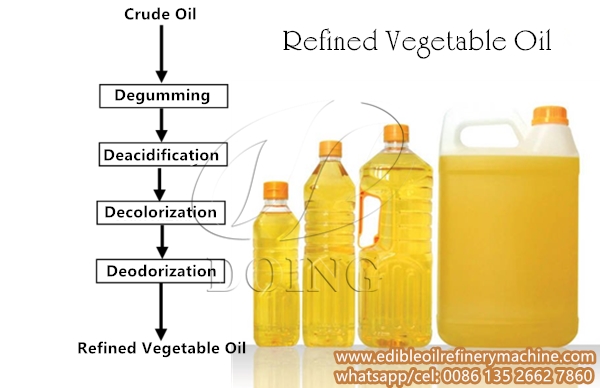 Refined vegetable oil making process flow chart
The first step is degumming
In degumming process, remove the gelatinous substances such as phospholipids and proteins in the crude edible oil to obtain degummed edible oil.
The second step is deacidification
The acidic substance not only affects the taste of the vegetable oil, but also affects the quality of the vegetable oil. What's more, according to edible oil standards, the acid price index is one of the most important indicators for measuring the quality of edible oil.(Acid value shall not be more than 0.5)
The third step is decolorization
Decolorization process is with the adsorption of white clay to remove the dark color in crude vegetable oil, then make the oil clear appearance, light color.
The last step is deodorization
In the deodorization process, with high temperature evaporation principle, the vegetable oil is heated to above 230 ° C, to reduce the peroxide value of the vegetable oil, at the same time, a small amount of pigment and free fatty acid are also able to be removed. Deodorization can make sure the quality of the reined vegetable oil, which is also an important steps of making refined vegetable oil.
Besides, to make refined sunflower oil, rice bran oil and corn germ oil need dewaxing process, and palm oil, palm kernel oil need fractionation process.
Edible oil refienry plant manufactured by Henan Doing Mechanical Equipment Co., Ltd has three types: batch type, semi-continuous and full-continuous vegetable oil refinery plant. If you want to set up an vegetable oil refinery plant, keep reading: How much will cost to set up an vegetable oil refinery plant?
Leave a message
If you wanna to get more details about What is refined vegetable oil? How to make refined vegetable oil?, you can send E-mail to market@doingoilmachine.com . Or you can consult our professional engineers and specialized sales team by leaving a message in below form. We will contact you ASAP. You also can visit our factory in Henan, China.

Leave a message

Tel/Whatsapp:008613526627860