20tpd edible oil refinery machine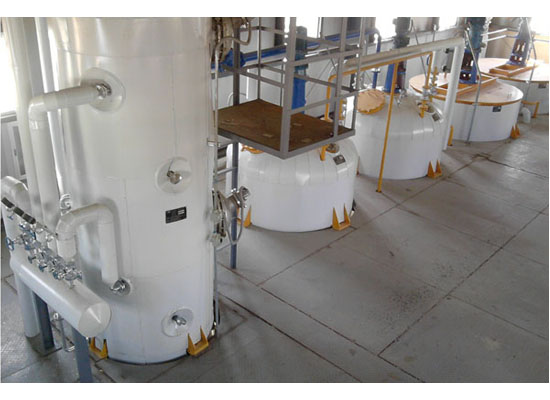 Factory direct sale contact number
Refinery is an essential process for a complete edible oil processing line because there are still some impurities such as phospholipids, FFA, pigment, odor, etc. in the crude oil. We have three kinds oil refinery plants, 1-10tpd can use batch type edible oil refinery plant. 10-50tpd can use semi-continuous edible oil refinery machine. 50-600tpd can use fully-continuous edible oil refinery machine.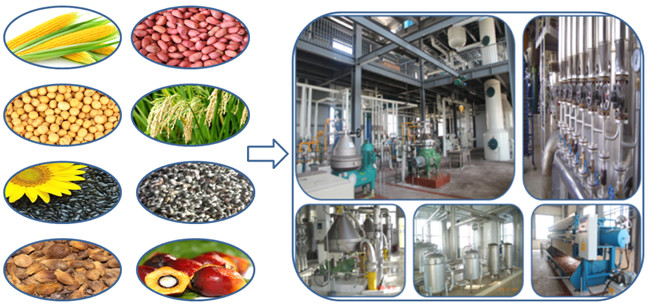 Widely used edible oil refining machine
All edible oil refinery machine for the crude oil have four parts: degumming, deacidification, decolorization and deodorization process. The refined oil has high quality and is good for long time storage. The plant is suitable for rapeseed oil, cotton seed oil, soybean oil, peanut oil,palm oil etc.
Edible oil refinery machine
Our edible oil refinery machine advantages:
1. Deodorization tank is stainless steel. because when deodorization, the oil temperature is very high. If the material is carbon steel, when heating, the manganese in the carbon steel will carbonize, which be harmful for our body.
2. Our filter machine is vertical vibrate filter, it can remove impurities automatically, do not need clean filter cloth by manual. Which can save labor power and high efficiency.
3.Our heat conductive oil system can offer heat energy for the whole refinery.
4. The pumps we use all are different with others. For example, most are multistage pump and centrifugal pumps not gear oil pump. These pumps can bear much pressure and high efficiency.
5. Our bag filter can remove impurities and some white clay impurities in the oil.
6. Inflate tank can be used recycling when power off , which can prevent damaging machine.
7. Customized capacity. We customize plant as per your requirement for the capacity.
8. Flexible usage. The plant can work independently or together with whole oil production line.

The specification of refined edible oil :
| | |
| --- | --- |
| Item | Standard |
| Color (Lovibond Cell 133.4mm) ≤ | R2.0 Y20 |
| Smell and taste ≤ | No smell and good taste |
| Transparence ≤ | Clear and transparent |
| Moisture and volatile matter (%) ≤ | 0.05 |
| Insoluble impurities (%) ≤ | 0.05 |
| Acid value (mgKOH/g) ≤ | 0.20 |
| Peroxide value (mmol/kg) ≤ | 5.0 |
| Smoke point (°C) ≥ | 215 |
Leave a message
If you wanna to get more details about 20tpd edible oil refinery machine, you can send E-mail to market@doingoilmachine.com . Or you can consult our professional engineers and specialized sales team by leaving a message in below form. We will contact you ASAP. You also can visit our factory in Henan, China.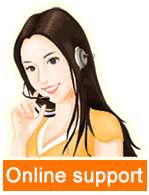 Leave a message

Tel/Whatsapp:008613526627860