Vegetable oil refinery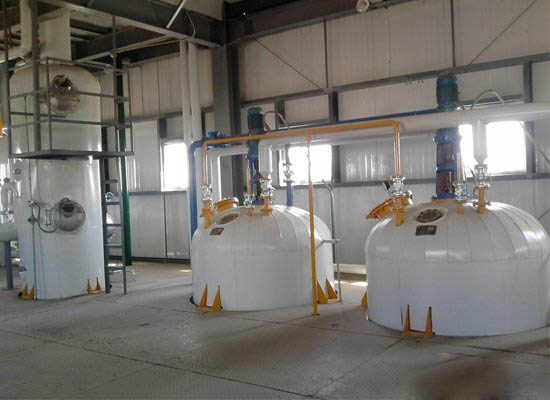 Factory direct sale contact number
Based on the traditional vegetable oil refining technology, Doing Company has developed the latest vegetable oil refinery technology and a series of advanced technology and equipment are used, such as super wet degumming, bleaching earth automatic metering, negative pressure decoloring, high vacuum steam jet deodorization, deacidification, winterization dewaxing etc. our vegetable oil refinery equipment can meet customers' different refining requirements at home and abroad.


Glance at refining workshop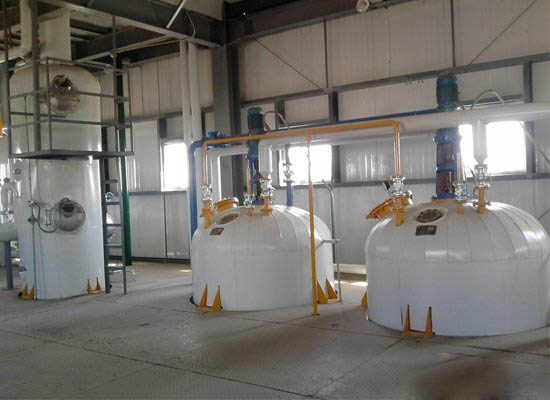 Vegetable oil refinery machine
Main Processes of Vegetable Oil Refinery Introduction:
1. Hydration Degumming & Alkali Refining Deacidification Process
The crude oil is output by the oil feed pump from the oil tank, and enters the crude oil heat exchanger to recover part of heat after metering and then is heated to the required temperature by the heater. After that, the oil is mixed with the metered phosphoric acid or citric acid from phosphate tank in the gas mixture (M401), and enters the conditioning tank (R401) to change the non-hydratable phospholipids in oil into the hydratable phospholipids. Add the alkali for neutralization, and the alkali quantity and alkali solution concentration depend on the quality of the crude oil. Through the heater, the neutralized oil is heated to the temperature (90℃) suitable for centrifugal separation to remove the phospholipids, FFA and other impurities in the crude oil. Then the oil goes to the washing process.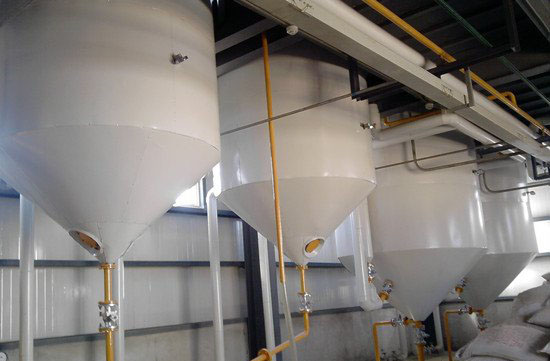 Vegetable oil refinery machine
2.Continuous Refining Decoloring Process


The main function of decoloring process is to remove oil pigment, residual soap grain and metal ions. Under negative pressure, the mechanical mixing method combined with steam mixing will improve the decoloring effect.

The degummed oil firstly enters into the heater to be heated to the appropriate temperature (110℃), then goes to the bleaching earth mixing tank. The bleaching earth is delivered from the low bleaching box to the temporary tank by wind. The bleaching earth is added by automatic metering and is interlockingly controlled with the oil.

The oil mixed with the bleaching earth overflows into the continuous decolorizer, which is stirred by non-powered steam. The decolored oil enters into the two alternate leaf filters to be filtered. Then the filtered oil enters the decolored oil storage tank through the security filter. The decolored oil storage tank is designed as the vacuum tank with the nozzle inside, so as to prevent the decolored oil contacting with the air and influencing its peroxide value and color reversion.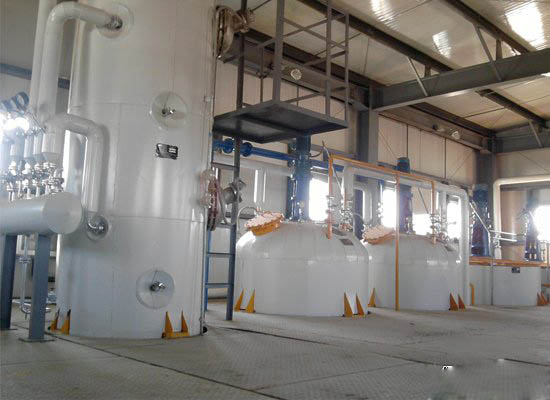 Vegetable oil refinery machine
Our company offer the automatic control system with advancedness, security, reliability into the pretreatment, extraction, refining and fractionation in large oil plants. For its application in automatic control system, it can control the production in the entire workshop and monitor the operational status of each device by controlling the computer terminals in the room. It has reduced the production cost greatly and improved the management efficiency.If you are interested in our vegetable oil refinery, please contact us to get more information.
Leave a message
If you wanna to get more details about Vegetable oil refinery , you can send E-mail to market@doingoilmachine.com . Or you can consult our professional engineers and specialized sales team by leaving a message in below form. We will contact you ASAP. You also can visit our factory in Henan, China.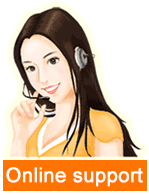 Leave a message

Tel/Whatsapp:008613526627860