Batch edible oil refining line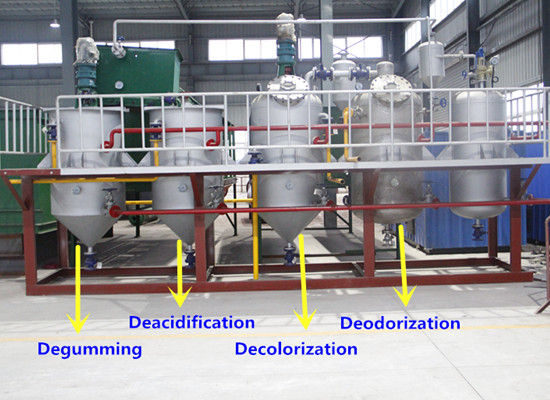 Factory direct sale contact number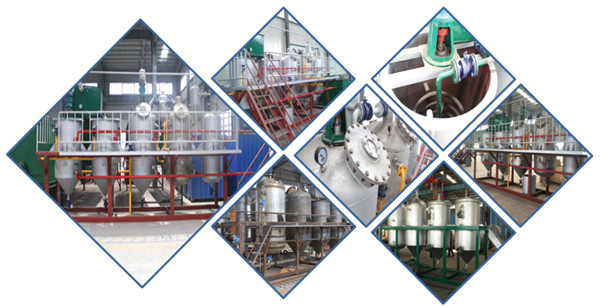 1-2-3-5T/D batch edible oil refining machine
Batch edible oil refining line introduction:
The crude edible oil obtained either from expellers or solvent extraction plant contains some impurities such as phospholipids, FFA, pigment, odor, etc.Which is bad for our health,so must removed. The process of removing these impurities is called refining.

Refining is an essential process for a complete batch edible oil refining line .We are professional manufacturer of edible oil refining line,we can supply 1-20T/D batch edible oil refining line,30-50T/D semi continuous refining line and 50-600T/D continuous edible oil refining line .Now, we mainly introduces the batch edible oil refining line.The batch edible oil refining line is suitable for rapeseed oil, cotton seed oil, soybean oil, peanut oil, etc.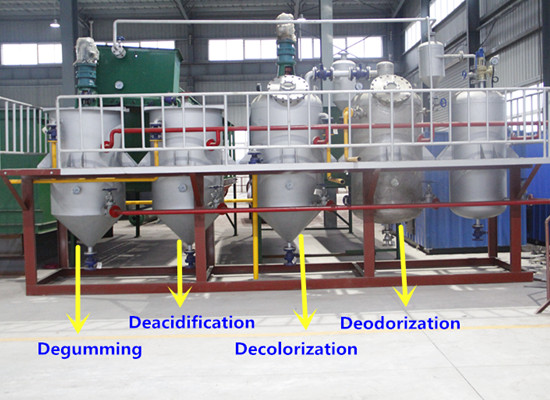 Batch edible oil refining machine

Edible oil refining process
The steps of batch edible oil refining line are as follows:
1. Degumming and Neutralization: In Batch edible oil refining line degumming and neutralizing is carried out simultaneously in a vessel called Neutraliser. The crude oil is made to react with weak solution of phosphoric acid for separation of gums and is further treated with caustic soda. Caustic soda reacts with free fatty acids forming soap. The soap is removed by decantation after removal of the soap oil is given a wash with hot water, oil and water is separated by decantation. More details are available on request.

2. Bleaching: Bleaching is second step in edible oil refining line after degumming & neutralising. The oil is bleached with the help of bleaching agent. Normally bleaching earth and / or activated carbon. The bleaching agent absorbs the colouring matter from the oil. The oil is filtered through filter press wherein bleaching agent and oil are separated out. The resultant oil is bleached oil and very much light in colour then the neutralised oil. More details are available on request.

3. Deodorization: The oil after bleaching is practically pure, but contains minute quantities of original odoriferous matter. Also the chemicals used during neutralisation and bleaching impart their odours to the Oil. It is essential to remove the odour prior to the marketing of the oil. The deodorization process in batch edible oil refining line is steam distillation process carried out in a vessel called Deodoriser. The oil is heated to a high temperature under high vaccum and open steam is injected. The odiferous matter is distilled off. The oil is passed and cleared through filter to get sparkling oil. More details are available on request.

4. Quality Control & Process Efficiency:The process offered by Henan Doing Company is such that the final quality of refined oil is automatically attained with minimum human effort. Lowest refining losses, consumption of utilities such as steam, power and water, lowest consumption of chemicals such as caustic soda, bleaching agents and degumming agents and minimum operating personnel are salient features of Henan Doing Company Edible Oil Refining Plants.
Leave a message about Batch edible oil refining line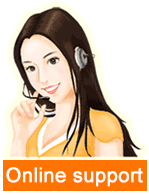 Leave a message

Tel/Whatsapp:0086 135 2662 7860