Soybean oil solvent extraction project
Soybean oil solvent extraction also called extraction machine, it is a process of extracting out oil from oilseed using organic solvent.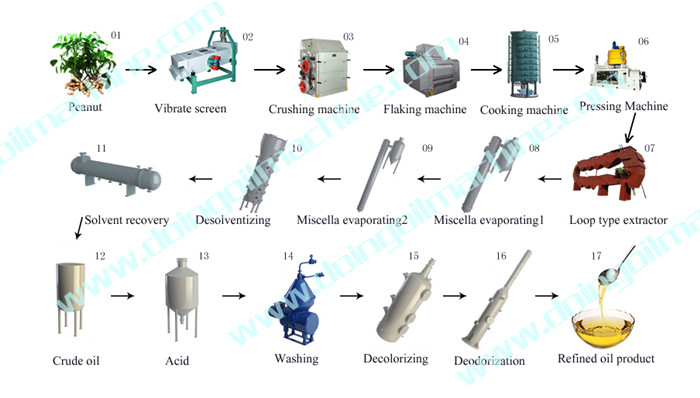 The complete soybean oil production process
The basic process of soybean oil solvent extraction: Soaking embryo(puffing oilseed, prepress cake or embryo slice)into the selected solvent, makes edible oil dissolve in the solvent (miscella), then separate miscella and solid cake; Miscella evaporates and strip according to different boiling points, make solvent vaporize into steam, and seperate with oil, then get crude oil. Solvent steam can be recycling through condensation,cooling. The meal also contains some solvent, it will get dry meal after desolvent and drying, during this process, it will volatilize steam,also can be recyclable through condesation and cooling.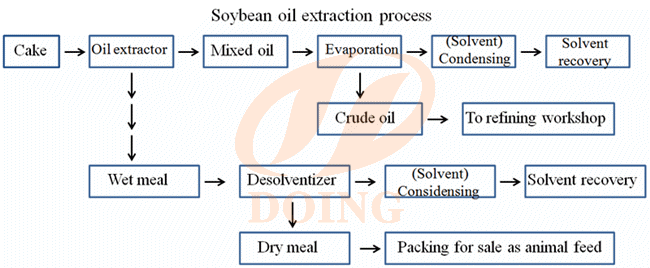 Soybean oil solvent extraction process
The crude oil quality in soybean oil solvent extraction workshop:

1.The total volatile matter of crude oil is less than 0.2%.

2.The meal oil residue rate is less than 1%(powdery meal is less than 2%), the moisture is less than 12%.

3. Crude oil stardand: color, smell and taste are normal; The moisture and volatile matter are 0.5%; Impurities 0.5%; The acid value is up to crude oil quality.

The consumption standard of soybean oil solvent extraction project:

1.1ton oilseed can consume steam less than 380g.

2. 1ton oilseed can consume electricity less than 15 kw

3.1ton oilseed can consume recycling cooling water less than 20 ton.

4.1ton oilseed can consume solvent less than 2kg
Leave a message
If you wanna to get more details about Soybean oil solvent extraction project, you can send E-mail to market@doingoilmachine.com . Or you can consult our professional engineers and specialized sales team by leaving a message in below form. We will contact you ASAP. You also can visit our factory in Henan, China.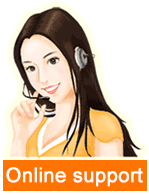 Leave a message

Tel/Whatsapp:008613526627860