peanut oil production process
Peanut oil production process includes three steps, peanut pretreatment plant, peanut oil solvent extraction plant and peanut oil refining plant. This passage introduces the 120TPD peanut oil production process in details.

Production Capacity of three plants in peanut oil production process:
120TPD peanut pretreatment plant;
120TPD peanut oil solvent extraction plant;
40TPD peanut full continuous oil refinery plant.

1. Peanut pretreatment plant
Peanut pretreatment plant is the first important section of peanut oil processing machine. Only when the peanuts are processed to the appropriate condition can the oil yield of press and extraction be ensured. The following is the introduction of the equipment: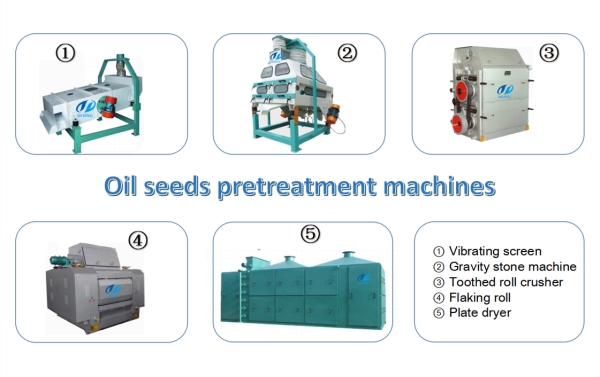 Machines in peanut pretreatment plant

Vibrating screen:
The two layer screen and dust removal web can move the impurities in the peanut. The vertical suction duct can move the dust and light impurities and guarantee the environment in the workshop.

Gravity stone machine:
It can isolate the stone continuous in the peanut and separate the heavy and light materials. There are two layer screen in this machine. The upper screen is used to separate the light and heavy materials. The lower screen is used to separate the glass, stone, metal, etc from the heavy materials.

Toothed roll crusher:
Toothed roll crusher can break the peanut even without oil and clouds. The effect is good.

Flaking roll:
In order to get the high quality flaking cake, the best flaking roll is important. We use the advanced YYPY series flaking roll with big capacity. The hydraulic roll can ensure the pressure and distance to get the high quality flaking cake.

Plate dryer:
The water content of flaking cake is about 12%. The best water content of solvent extraction is 9%, so we must use dryer to get the best water content.

In the peanut production process, our excellent conveyor with high transmission efficiency can be flexible according to the process arrangement. The cleaning system use the vibrating screen with dust removal web which can reduce the environmental pollution and ensure the health of the operator.

Technical specification index(based on per ton peanut feed quantity)


Peanut pretreatment plant average consumption index

2. Peanut oil solvent extraction plant
Peanut oil solvent extraction plant is the second section in peanut oil production process. Consider the user's requirement, with the recent home and abroad new craft develop direction, and think about long term actual production case, the following equipment are used in peanut oil solvent extraction plant.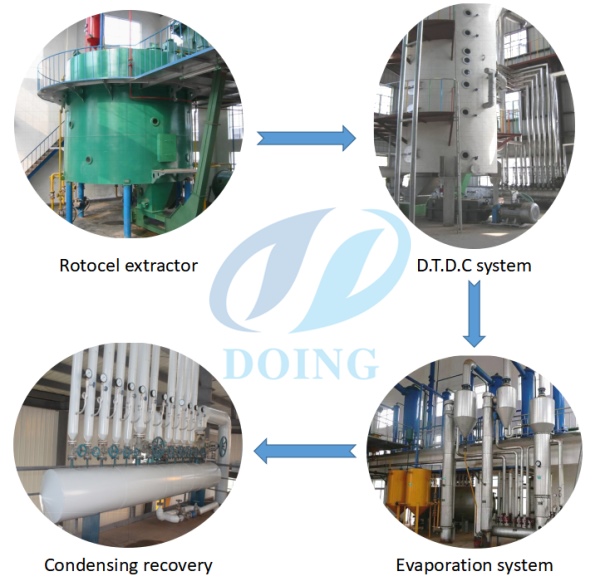 The flow chart of peanut oil solvent extraction plant

Rotocel extractor:
Use frequency-variable speed adjust, timely adjust the rotate speed and processing amount according to the production case, chain drive, running stably and safely, use stainless steel fix grid sheet, for the leacher, relative big left area, fit for enlarge the production later days, at the same time, the relative high materials layer more fit for the extraction effect,use 18 grids design, avoid thick mix oil fallen back to the materials fallen grid, increase horizontal grid sheet, for circulating solvent pump use drive pump with big flow, low lift, good seal, small consumption, no noise, stable running.

D.T.D.C system structure:
There are five layers. The first and second layer is pre-desolventizer layer, the bottom has indirect steam to heat. The third layer is main desolventizer layer. And the forth and fifth layer is drying layer.

The structure advantages:
Resonable jet steam structure can ensure the steam has low temperature, energy consumption is much lower than before.

Compared to traditional DTDC, our DTDC works in close condition, desolventize the wet meal high efficiently. And we adopts reasonable direct steam uniform distribution to ensure lowest solvent residual in meal.

The meal stays same time period in each part of the DCDT. So product quality is steady.

The evapo-separated machine steam phase temperature can be automaticly adjusted by control the steam consumption.

This DTDC has pre-desolventize layer, which solve the cake dark color problem. Final product cake color is very good and welcomed by clients.

Filling type thin film absorption tower:
adopts SS corrugated plate padding, has large superficial area, mass transfer efficiency is high. Based on same efficiency, but less diameter and tower height. High recycling rate, and less energy consumption.

Layer stripper:
new type,strong ability to remove off the solvent,and avoid the left solvent content high or low now and again due to the steam waving, the crude oil volatiles drastically down, ensure the refining safety.Due to the flange link among the tower disc, so it is easy to maintain and cleanse.

3. Peanut oil full continuous refining plant
Peanut oil refining plant is the last section in peanut oil production process. This process can make the crude peanut oil become Class 1,2,3,4 peanut oil. The following equipment are used in peanut oil refining plant. (read more: 400TPD crude edible oil refinery plant)


Main machines in peanut oil refining plant

Disk type centrifugal separator:
Apply current advanced process combining with traditional chemical and international-popular physical refining. We adopt Jiangsu Yixing sentrifugal, steady and good product quality.

Centrifugal mixer:
Mixer is centrifugal type. With this machine, material liquid can be mixed with acuity in a short time to meet the requirement of process. Combining with short mix and long mix process makes the process more reasonable, and ensures refining effectiveness.

Vacuum drier:
Dewater continuous vacuum drier with stainless padding has high drying efficiency;

Vertical leaf filter machine:
Equipped with vertical leaf filter to remove used bentonite from the oil, operating conveniently and continuously , low laboring tense, keeps environment well, keeps oil residence in deposable bleaching earth in low level

Continous decolorizing tower:
The machine material is Carbon steel. We have designed the "Cycling evaporation stirred decolorizing tower", its layer structure can effectively reduce material short circuit, which can ensure the decolorized time. Cycling evaporation avoids the dead angle situation, white clay and oil mix evenly, less air leak and oil oxidation, all keeps good decolorizing effect. No mechanical drive parts, based on safety running, reduce the machine maintainence times and costs.

Deodorization device (combined packing tower) :
Combined three parts by "flash tower", retention machine and column packing deodorization tower. The equipment's physical deacid capacity is much higher than plate type deodorization tower, steam consumption is only one-third of the layer plate deodorization tower. To process high quality, low cost oil, we offer the professional technology and equipment guarantee.

Economic & technical Index of peanut oil refining plant
( degumming, deacidification, bleaching, deodorization)


The specification of peanut oil refining plant

We can offer the whole peanut oil production process machines with turnkey service, capacity from 10 to 2000TPD or more. Besides, our professional engineers can help you design and install peanut oil production process plant according to your capacity and requirements. Welcom to inquiry and visit!
Leave a message
If you wanna to get more details about peanut oil production process, you can send E-mail to market@doingoilmachine.com . Or you can consult our professional engineers and specialized sales team by leaving a message in below form. We will contact you ASAP. You also can visit our factory in Henan, China.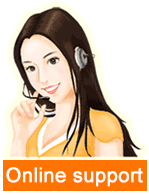 Leave a message

Tel/Whatsapp:008613526627860